Go Local with Your Bags for Summer 2021 Look
Go Local with Your Bags for Summer 2021 Look
Since Summer is here we thought we will showcase some local Malaysian brands that carries beautiful bags for summer. Initially this article was written to commemorate the supposed final week of MCO which was last week, but it was later announced that MCO was to be extended (yes, again). Luckily, it was not published yet because that would have been embarrassing! Anyhow, I am sure we were all excited and might even already planned for a much-needed stay-cation away from home but of course, not far enough to breach any SOP once the MCO is lifted. The weather lately has been perfect for a little trip to the beach, and I may or may not have been fantasizing sitting by the beach, breeze in my hair and sand in my toes carrying the perfect bag this summer. The celebrities' summer holiday photos that have been surfacing on the gram lately sure make you yearn for the days you get to spend in the outside world.
One of my favorite things about summer is how fun and playful the style trends to be. I just love the vibrant and youthful energy used in summer trends, from the clothes to accessories to the bags. It makes you feel invigorated just by looking at it. The fun thing about living in a tropical country is, we kind of have that summer weather all year long so, summer fashion kind of applies to us even long after summer is gone! Combining the daily time surplus by not having to be stuck in traffic while commuting to and fro the office for work (I'm under impression majority of us are working from home) AND the ridiculous number of on-going sales, high possibility the outcome is you "accidentally" bought some cute summer outfits online. Do not worry, I am here not to judge your purchases in fact, I am here to offer some of our top picks for cute summer bags to go along with your outfit! Given the fact that MCO have been imposed for over a month now, it has been reported to be strenuous on our country's economy. In this article, we are going to highlight summer-perfect bags from our local Malaysian homegrown bag brands.
1. Nazifi Nasri Anyaman Box Bag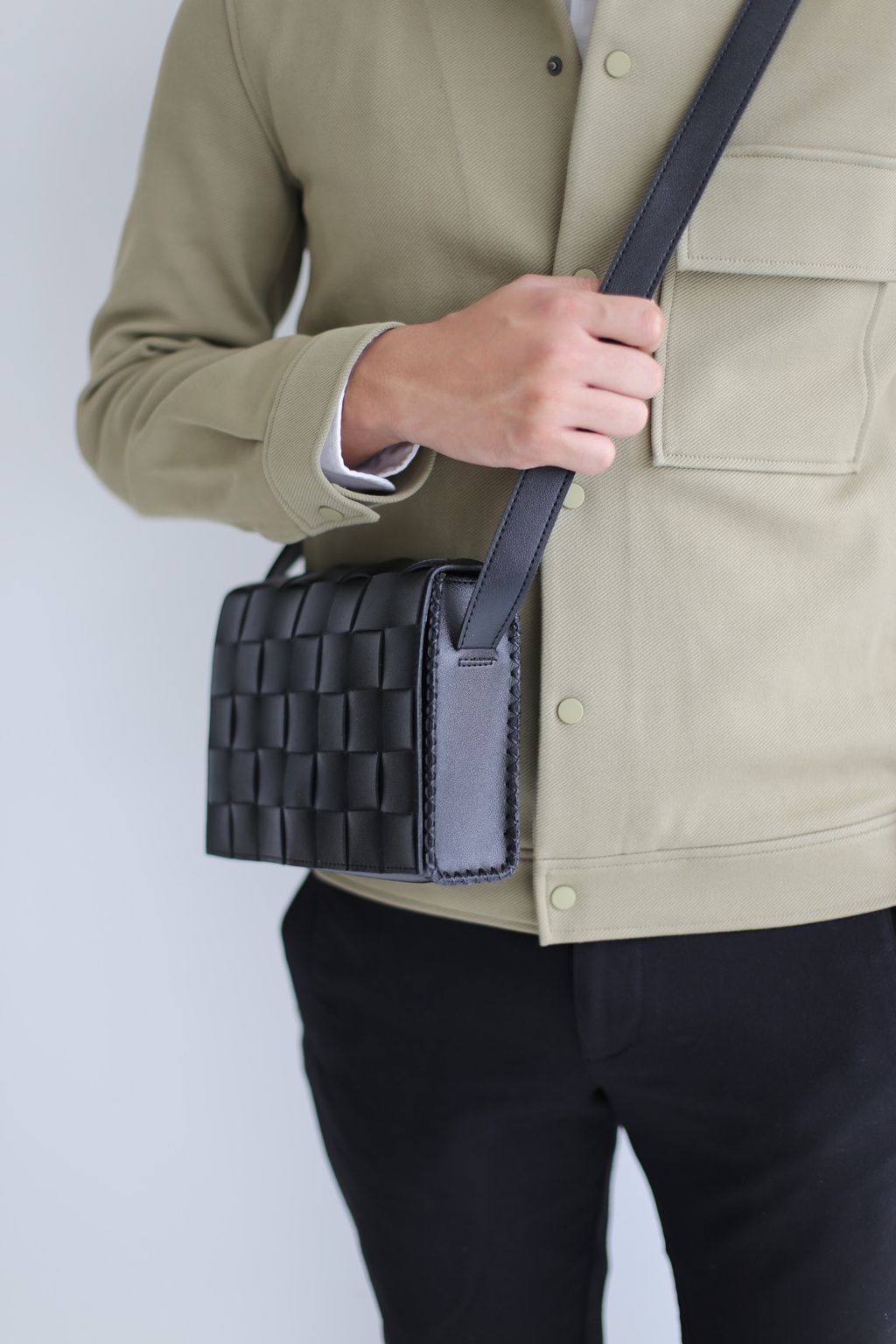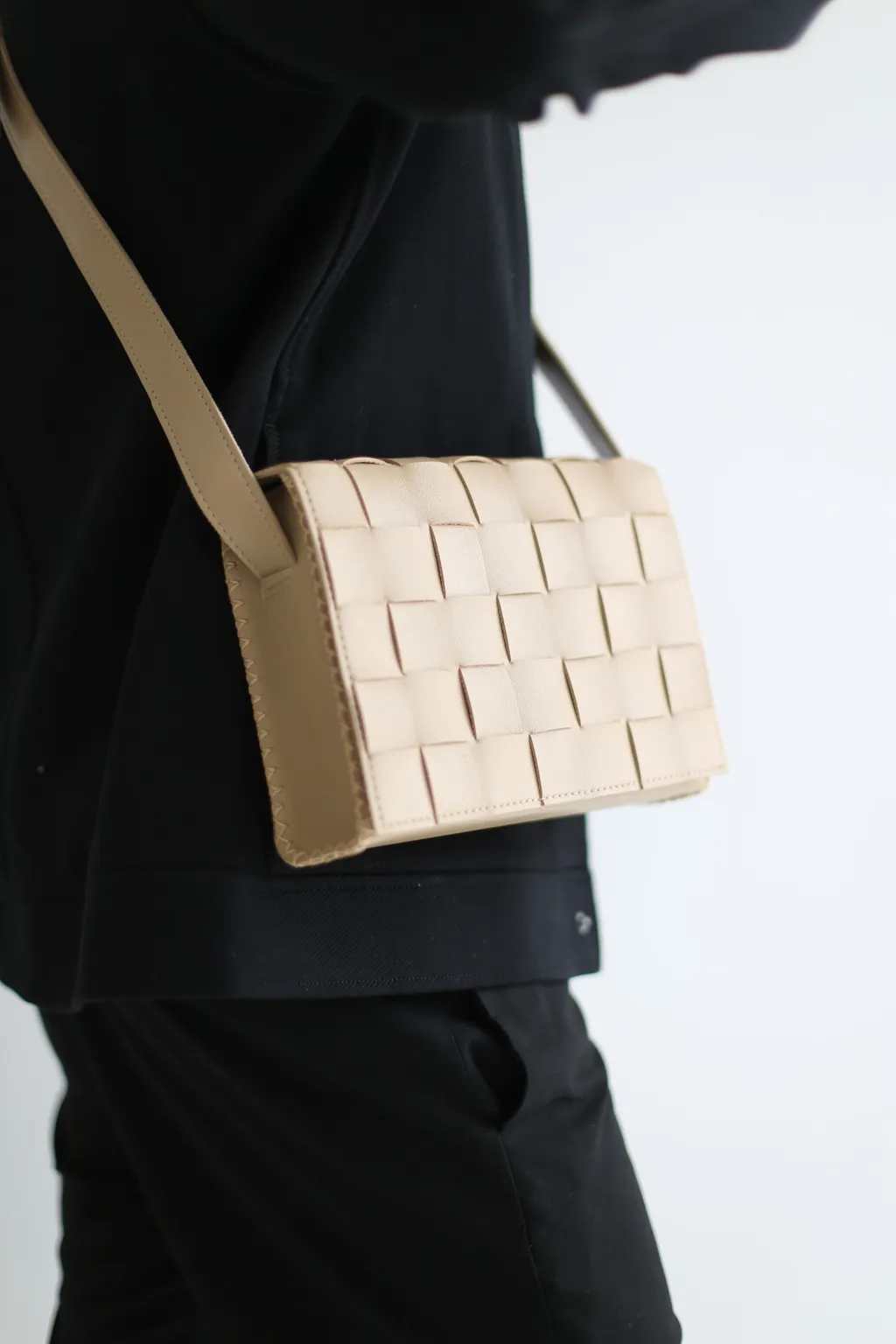 The Anyaman Box Bag is surely going to be a hit this summer with the beautifully crafted weave patterned bag. This bag is hand-sewn, cut and polished locally here in Malaysia. The best thing about this exquisite bag is it is unisex so, both men and women can wear it in style this summer. Since its inception in 2014, 'Nazifi Nasri' has specialised in men's sandals and footwear that are both minimalistic and sophisticated while still being comfortable. Nazifi Nasri have sought to gradually broaden their market by offering a number of limited-edition women's footwear collections as well as unisex accessories such as everyday purses and small leather goods. The goal is to bring together both traditional and minimalist expectations in order to build their own modern vision while focusing on the ideal material.
2. Huey Sy Bags
If you have an eye for one-of-a-kind stylish bags handmade from unique fabrics, well you would like Huey Sy's bags to match your fun summer outfits! No one bag is identical to another as each bag is hand sewn and the bags are thoughtfully designed to be timeless and evergreen to fit the styles of the different age range of customers. The smaller and brighter color bags would be perfect for younger customers and they could style the bags as crossbody or as clutch. The larger sized bags with bamboo handles on the other hand would suit sophisticated and older customers. Some of Huey Sy's best-selling creations utilizes the Malaysian songket and batik fabric which highlights intricacy of Malaysian's culture.  Now, that is a fun way to stand out in the crowd this summer!
I could just stare at this bag for days because this bag from Repleat is definitely ready to dominate this warm-weather season and who would have known it is made of plastic! Their poetic way to describe the bag is, it is a new take on structure with a soft structural focus, the Saturn Bucket Bag is made up of tiny little planets/links/rings orbiting and held into place by a ball chain. Repleat is bag label that fosters the relationship between the city and the tropics, celebrating both through beautiful structure. The label is a thoughtful convergence of these two worlds, and for those who find their place in both. Repleat draws inspiration from a variety of global artistic influences, from Moorish architecture to Japanese origami, using the unlikely plastic Polypropylene to create designs that are heavily rooted in their attention to dimensional forms, textural qualities, and the juxtaposition of light and shadow.
4. Nala Designs The Aline Bag in St Tropez Aquamarine
I am a sucker for bags with cute names and The Aline Bag in St Tropez Aquamarine by Nala Designs took home the prize because it is named after one of my dream summer vacation spots so, automatically it goes into the list of must have summer bags! The combination of aquamarine and white truly depicts the colors of white yacht on St Tropez port, oh how I wish we could go back to travelling again this summer! Not only that, but the print of the inner fabric is also creatively designed with the illustration of Maingaya Malayana flower. The Maingaya Malayana is one of the 13 rare flowers in Malaysia, and it was found growing on Penang Hill. Both outer and inner prints are unique, and you could easily flip it inside out to get a different look of the tote bag to match whichever cute summer dress you have. I call that killing two birds with one stone!
5. Sometime by Asian Designers NW S Bag
Buckle up, everyone pastel colors and teeny tiny bags has made its way back into the Trending-town! It is hard to miss cute pastel bags when you see one and the NW S bag totally nail the trend! Ditch the bulky bags and strut the streets this summer with small bags. Now it is all about go small or go home. Summer should be the season of keeping things light and easy so, small bags are completely appropriate for this season. Also, lately there have been quite a few sightings on popping pastel colours especially lilac and green. Something about the colours just remind me of a heart full of joy and jovialness on a warm summer weather. Over the years, there have been several variations on fashion take on pastel. However, the pastel colors this time around have a whimsical vibe that a lot of people are aiming for this summer.
6. GIN & JACQIE Lara Lightweight Tote Bag
I always find combination of playful colors and prints on bags add personality to the person carrying it. GIN & JACQIE are no stranger to fun prints, and I absolutely love seeing bold funky prints around this summer! This is an unwritten rule: Summer = Beach. One simply cannot miss the beach during summer, and Lara Lightweight Tote Bag is the perfect bag for the beach. Lara bag is water resistant and spacious which means you can fit all the essentials like sunscreen, towels, water bottles, sunglasses and many more. It also comes with a mini pouch to keep your small items like your make ups or even your cards and money.
I hope you are taking note because, I spy with my little eyes, rattan bag is in the spotlight at the beach this summer. The woody element from the Rattan Dayang Bag by dUCk reminds me of Bali, the ultimate beach paradise – another summer dream vacation on top of my list. The bag is crafted from a unique mix of rattan and faux leather and has a drawstring top that opens to dUCk's signature monogram lining with pockets for lipsticks and a pincushion. The dUCK Rattan Collection is a remembrance of those warm cherished days, novel antiquity is the hallmark of this collection. Inspired by the rustic style of rattan, the print weaves its patterns on this beautiful summer perfect bag.
There are a lot of people who are affected during this pandemic, especially local businesses. With the MCO being extended to longer period, a lot of our favourite local businesses are not able to operate due to the strict SOP hence, putting employment and livelihood of many people into jeopardy. So if you are looking for that perfect "bag for summer'' just look within your country! There is plenty of cool and affordable brands to shop from.
 Michael H. Shuman, author of the book Going Local says, "going local does not mean walling off the outside world. It Means nurturing locally owned businesses which use local resources sustainably, employ local workers at decent wages and serve primarily local consumers. It means becoming more self-sufficient and less dependent on imports. Control moves from the boardrooms of distant corporations and back into the community where it belongs." 
So, through this article we hope to show support to our local Malaysian brands with great summer bag designs.
Till our next post Bag in, Bag out!!!
Read more
Comments
✕